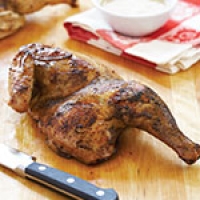 My favorite recipe!


Invented in the 1940s by Robert Baker, a Cornell University professor, this tangy, crisp-skinned grilled
chicken
has been a star attraction at the New York State Fair ever since.
Michael's Grilled Chicken Breasts
Grilled Buttermilk Chicken
Instead of soaking the
chicken
in a saltwater mixture to add flavor
and juiciness, this grilled chicken recipe is brined in a mixture
of buttermilk, shallots, and spices.
You might also like
Bobby Flay: Pork Tenderloin Marinated in Garlic, Lemon and Oregano
Pioneer Woman: Marinated Flank Steak Recipe
Anne's: Marinated Grilled Hanger Steak